Are you considering Smyth Jewelers for a diamond engagement ring? This review dives into the pros and cons to consider before purchasing from well-known brick-and-mortar retailer Smyth Jewelers. We hope that this Smyth Jewelers review educates and saves you time and money before making a big ticket purchase.  

Our Conclusion: Smyth Jewelers is a great choice as a brick-and-mortar retailer, but you are likely to pay more and have somewhat less selection available to you than if you were to buy from an online retailer like Blue Nile, James Allen, Adiamor, and Whiteflash. We feel that unless you find significant value in in-person shopping, you will get more value from using one of our featured online vendors.
If you're looking to buy loose diamonds online, use our special tools to reveal the best-cut quality diamonds! Start your diamond search and choose from over a million loose diamonds for sale. Use our filters to find either natural or lab diamonds, as well as fancy color diamonds.
The History of

Smyth Jewelers
Smyth Jewelers, based in Maryland, is one of the oldest jewelers in the United States, founded over a century ago by Albert Smyth. It's still a family enterprise, with Tom Smyth and Bob Smyth, third-generation members, serving as co-presidents as of 2016. There are three branches in Maryland – Timonium, Ellicott City, and Annapolis – with the main store in Timonium being the largest, boasting 50,000 square feet, one third of which is dedicated to showroom space.
The fourth generation of the Smyth family is now at the helm and continue the family-owned and operated ideals that have kept them successful over the last century.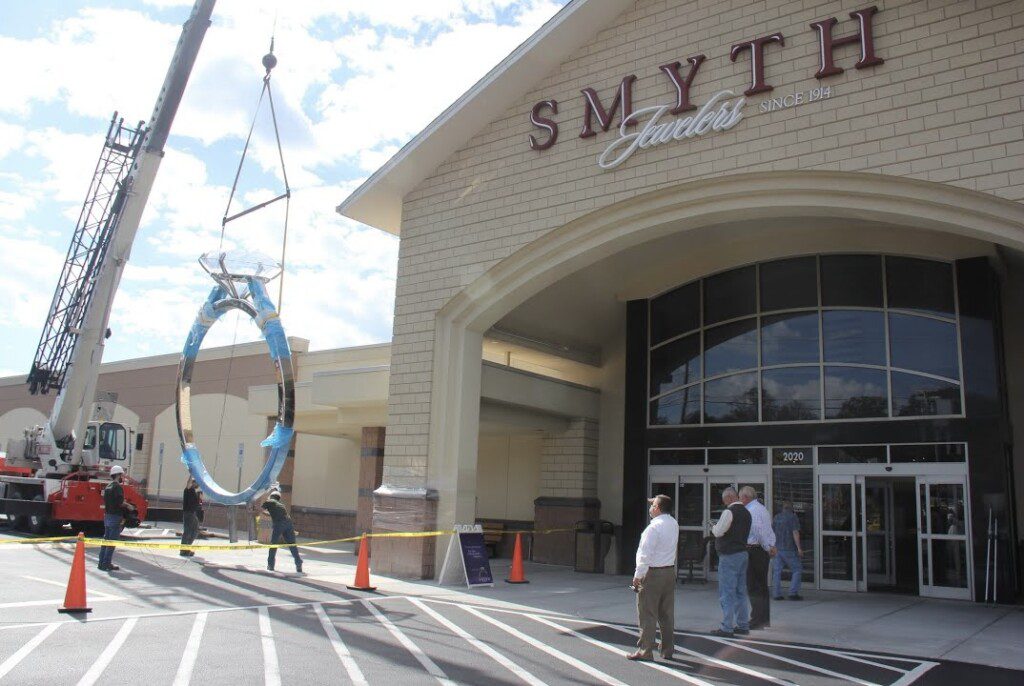 Best Diamond Prices: PriceScope features the world's top diamond jewelry sellers, including the world's #1 online seller of Super-Ideal Diamonds 

Whiteflash

, as well as the #1 and #2 online sellers by volume, 

Blue Nile

 and 

JamesAllen.com

. Just as important as diamond prices are the unmatched 5-star service and reliability. Our 

vetted vendors

 have passed rigorous standards for best practices and consumer protection.
Quality, Variety, and Pricing of Smyth Jewelers

 
Quality
The diamonds offered at Smyth Jewelers are of good quality for fine jewelry. These are jewelers that know their craft and create quality products. Smyth Jewelers carries several impressive brands we know and love, such as Verragio, Tacori, Simon G., and Martin Flyer. The quality is to be expected with these brands. 
Round 1.00-Carat I-Color SI1-Clarity Natural Diamond at Smyth Jewelers
Variety 
There is a decent variety, especially in their hybrid online vending and in-person model. Being a local jewelry retailer, even with 3 locations, there is just no way to compete with the variety and selection available at the top online vendors.  
Looking for diamond jewelry online from a vendor you can trust? Browse our jewelry search featuring fine diamond jewelry from vetted online jewelers Whiteflash, James Allen, Blue Nile, B2C Jewels, and Adiamor.
Price

 
The prices are comparable to other brick-and-mortar retailers. Pricing is another aspect where brick-and-mortar stores cannot fully compete with online vendors. The overhead for in-person retail is significantly higher, and online vendors can pass the savings on to their customers. We appreciate getting the best diamond for the best price possible, and that always brings us back to online retailers we can trust. 

Round 1.51-Carat J-Color SI1-Clarity Natural Diamond at Smyth Jewelers
Diamond Light Performance Images
Diamond Certification at Smyth Jewelers
When it comes to buying a diamond, certification plays an integral role in ensuring that you are investing in a diamond of the highest quality and authenticity. Smyth Jewelers, as a leader in the jewelry industry in Maryland, comprehends the importance of this vital factor and has been uncompromising in their insistence on providing only certified diamonds to their customers.
At Smyth Jewelers, each diamond undergoes a meticulous evaluation process by independent, internationally recognized gemological institutes such as the Gemological Institute of America (GIA), the American Gem Society (AGS), or the International Gemological Institute (IGI). These certifications are not merely recommendations, but a guarantee of a diamond's quality, verifying its carat weight, cut, color, and clarity, often referred to as the 4Cs.
The value of a diamond certification cannot be understated, as it lends transparency and credibility to the purchasing process. By presenting a certified diamond, Smyth Jewelers ensures that customers are not simply taking their word for the diamond's value, but have a detailed assessment from a neutral and reputable third-party organization. This transparency is central to Smyth Jewelers' business ethos and has played a pivotal role in establishing their reputation for integrity and trustworthiness.
Where To Buy Loose Diamonds? Our elite list of vetted vendors like Whiteflash and James Allen are experts at listening and helping you determine which combo of the 4Cs is perfect for you – and nicely in budget. Contact Us and get help today.
Return and Warranty Policy at Smyth Jewelers
Return Policy
Smyth Jewelers deeply values each customer's decision to shop with them. Should a customer be unsatisfied with their purchase, Smyth Jewelers provides a robust return policy. Returns of unused items or those with manufacturer defects are accepted within 30 days from the shipping date. An extended return/exchange period until January 31st is available for holiday purchases.
In the return process, customers have the option to exchange their item for a different size, style, or another item. It should be noted that the return label's cost will be deducted from the refund or added to the balance if the customer opts for an exchange. Original shipping costs are not refundable.
Customers can choose to receive their refunds through the original payment method or as store credit. Processing these returns may take 3-5 business days after delivery.
Warranty Policy
As a member of Preferred Jewelers International (PJI), Smyth Jewelers extends a complimentary lifetime warranty to its customers. This warranty is honored by more than 200 Preferred Jewelers International members nationwide.
The free Nationwide Warranty provided by Preferred Jewelers covers a range of services:
Inspection of all prongs, channel, and setting work is carried out to ensure none of the stones move in any way. Re-tipping, the process of adding small amounts of metal to the tip of each prong, is included. However, charges may be incurred for Rhodium when required, at the sole discretion of the Preferred Jeweler.

Resizing services are offered when possible. Some rings, particularly those with a large size difference, specialty design, or micro pave, are not resizable. Rings with micro pave are especially sensitive to resizing and could result in loose stones and compromised integrity.

Tightening of stones is recommended every 6 months. Customers are required to visit their Preferred retailer for inspection and necessary repairs.

Refinishing and polishing are part of the warranty, aimed at restoring the jewelry to pristine condition. Charges for Rhodium may apply in certain circumstances, again at the discretion of the Preferred Jeweler.

Repair of loose earring backs is included.

Preferred Jewelers will replace a diamond up to .20ctw at no additional charge.
To maintain the validity of the warranty, customers are required to visit a Preferred Jeweler for inspection and maintenance every six months. Notification for the "due date" inspection will be sent via email 30 days and again 14 days prior. The warranty could become invalid if the customer fails to comply, and charges may be incurred to reinstate it.
If a customer moves, they can visit the Nationwide Presence tab on the Preferred Jewelers International website to locate a Preferred retailer in their new city.
The PJI warranty does not cover personal accidental damage to the jewelry. If such damage occurs, the retailer may charge the customer to restore the jewelry to a warrantable condition and then reinstate the warranty. Insurance coverage is highly recommended for such instances.
Final Thoughts
For fine diamond jewelry we maintain that trusted PriceScope vendors are the better choice. If a local in-person jewelry shopping experience is what you are looking for, this is a good one for people in Maryland! Smyth Jewelers has consistently provided great customer service to it's stores clients for over a hundred years, that makes them an important part of the jewelry history in America.