Recognized in National Jeweler, Ritani earned a spot on the Forbes list of "America's Most Promising Companies," demonstrating its standing as a reputable company. With its excellent jewelry offerings and satisfactory diamond pricing, Ritani is undoubtedly a valuable contender. However, for overall experience and better value, it may be worth considering other options such as Whiteflash, Adiamor, James Allen, or Blue Nile.
That said, if you're intrigued by Ritani's "click and bricks" business approach (elucidated below), or if you find an irresistible setting exclusively at Ritani, this company won't disappoint. We stand ready to assist in guiding your Ritani diamond search, or if you prefer, we can propose diamonds from other retailers that best match your requirements. Just reach out to us.
If you're looking to buy loose diamonds online, use our special tools to reveal the best-cut quality diamonds! Start your diamond search and choose from over a million loose diamonds for sale. Use our filters to find either natural or lab diamonds, as well as fancy color diamonds.
Ritani's Origins
Opening its digital doors in 2012, Ritani is a fairly recent entrant into the online diamond retail sector. The Julius Klein Group, one of DeBeers' largest Sightholders, established Ritani. Cantor Fitzgerald acquired the company a few years later, with Brian Watkins remaining the steadfast CEO since Ritani's inception. By blending the benefits of online retail with its own unique twists, Ritani's results are impressive, though the impact on consumers remains uncertain.
Ritani's Engagement Ring Shopping Experience
Ritani's website is designed for effortless navigation, facilitating a pleasant shopping experience. Its robust selection of diamonds demonstrates the company's commitment to investing in technology that benefits consumers and retailers, as exemplified in tools like the "Ring Recommender", featured in JCK Online.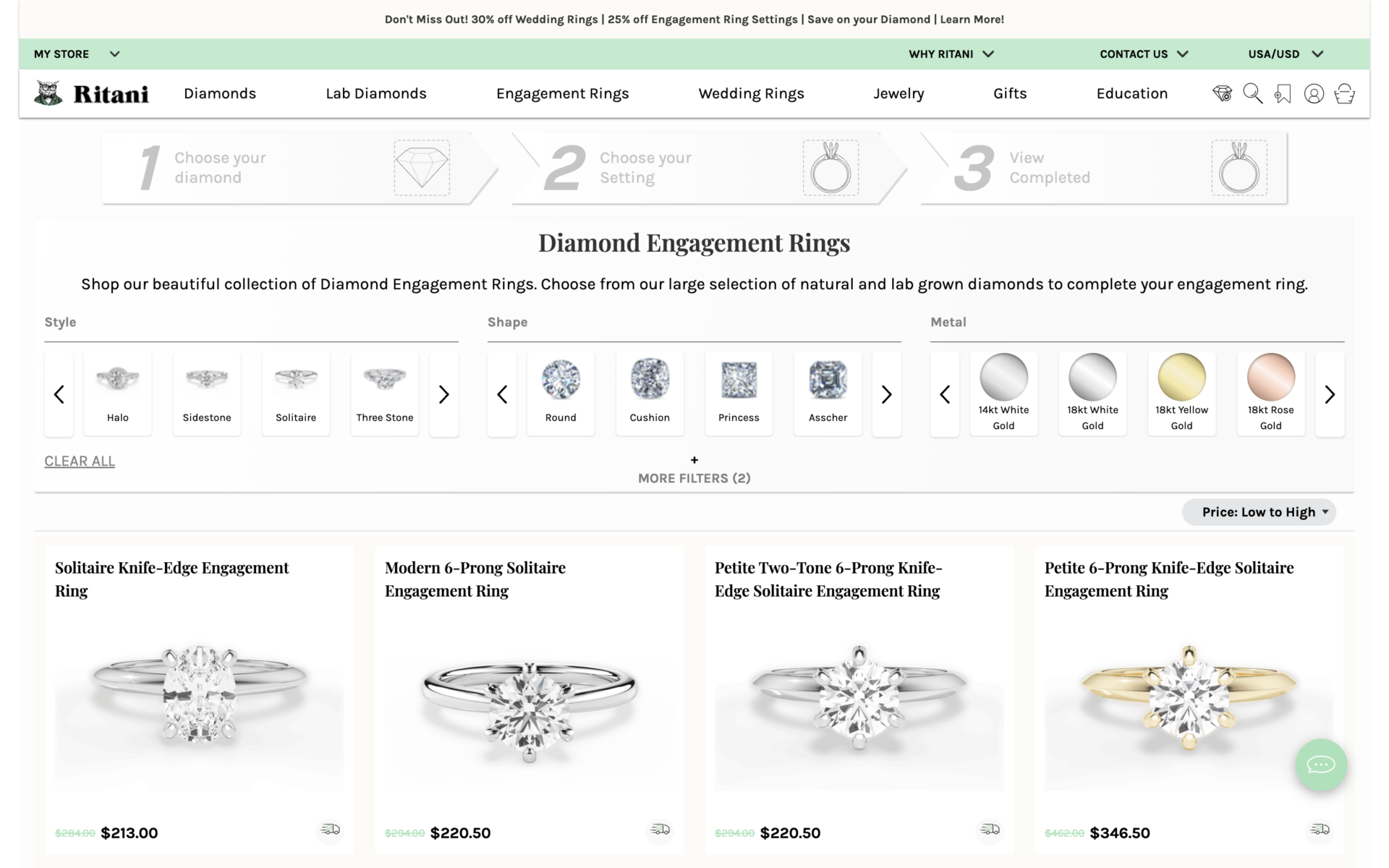 Unlike other sites that may list inaccurate diamond information, Ritani assures a seamless buying experience due to its direct relationship with suppliers, guaranteeing the listed diamonds' availability, just like Adiamor, Whiteflash, Continental Diamond, Blue Nile, and James Allen.
Ritani also allows a gemologist to personally review up to four selected diamonds, offering a detailed analysis.
Combining Online and In-Store Shopping
Ritani distinguishes itself with its "clicks and bricks" model, allowing shoppers to ship their selections to a local retailer for viewing. Although all major online retailers provide full return policies, Ritani's model caters to those who appreciate the traditional retail experience. Ritani's return policy aligns with its competitors', even offering to cover return shipping like James Allen.
Looking for diamond jewelry online from a vendor you can trust? Browse our jewelry search featuring fine diamond jewelry from vetted online jewelers Whiteflash, James Allen, Blue Nile, B2C Jewels, and Adiamor.
Comparing Ritani and Whiteflash
A search for GIA-certified 1.01ct, H VS2 ideal cut round diamonds with no strong fluorescence was conducted to offer a comprehensive comparison. Whiteflash's diamond was approximately 50% less expensive in this comparison than Ritani's. Continental Diamond and Ritani had similar prices, though things might look different in the context of an engagement ring setting. 
Ritani's Engagement Rings vs Blue Nile's
Although Ritani's prices align with Blue Nile when it comes to loose diamonds, Blue Nile has a significantly larger selection (151k to Ritani's 100k). Overall, while Ritani's engagement rings exhibit superior craftsmanship and distinctive designs, their selection is particularly limited for budget-friendly choices. Blue Nile not only offers cheaper settings but also has a more varied selection.
Frequently Asked Questions (FAQs) About Ritani 
Does Ritani provide financing? 
Yes, Ritani's financing options are comparable to other retailers. Though their zero-financing option is beneficial, the 9.99% long-term financing is better to avoid.
Does Ritani offer GIA-certified diamonds?
Yes, Ritani offers only diamonds with a GIA or AGS certificate. GIA is regarded as the benchmark in diamond certification.
What

is

Ritani

's return policy?
Ritani provides a 30-day money-back guarantee (some custom designs are excluded), even covering return shipping costs (not sure if applicable to international orders).
Best Diamond Prices: PriceScope features the world's top diamond jewelry sellers, including the world's #1 online seller of Super-Ideal Diamonds Whiteflash, as well as the #1 and #2 online sellers by volume, Blue Nile and JamesAllen.com. Just as important as diamond prices are the unmatched 5-star service and reliability. Our vetted vendors have passed rigorous standards for best practices and consumer protection.
Is Ritani the right choice for buying a loose diamond or engagement ring?
While Ritani is not a poor choice for purchasing an engagement ring, it may not be the best. Ritani offers top-quality diamonds and settings, yet, compared with key competitors like Whiteflash, James Allen, and Blue Nile, it places fourth in the selection and pricing. The slight differences may not matter to some, but they fail to provide a persuasive argument for recommending Ritani over its competitors.