By PS Staff
It's September which means that we get to delve into another beautiful birthstone. This month is the oh-so-pretty sapphire. Now, if you're a jewelry fan, and we know you are, then you know all about the sapphire. You've coveted it, strategized to get one and fell in love with the Duchess of Cambridge's engagement ring. Yet, if you are one of the lucky ones to have been born in September, then you have an extra reason to be head over heels in love with this gemstone. There's more though, keep on reading to discover just what makes this September birthstone one of the most popular and valued gemstones on the market.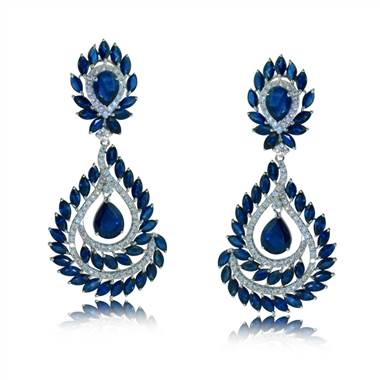 Sapphire and Diamond Chandelier Earrings set in 18KT White Gold 23.30ct

at I.D.Jewelry
Sapphire to Know: Padparadscha
Sapphires come in nearly every color but the most-desired and expensive color is the Padparadscha sapphire. It is a salmon colored stone which is extremely rare and exquisitely colored. Anyone who stares into this stone is instantly transfixed. Yet, it's color makes inclusions highly visible. Thus, an impeccably cut, clear stone can cost untold sums of money.
History Loves Sapphires
This stone has been getting love from people throughout history. Citizens believed they conferred blessings from the heavens, medieval clergy wore them to represent heaven and our own royalty, Dame Elizabeth Taylor wore one as an engagement ring.
Did You Say Engagement Ring?
When Elizabeth Taylor became engaged to Michael Wilding, she wore a sapphire cabochon engagement ring. They say it was she and not Catherine, Duchess of Cambridge, to set the engagement ring trend back in full force. However, you can look back in time and discover that sapphires became popular as engagement rings because they represent honesty, purity, trust and loyalty. The very basis of any good relationship if you ask us.
Now, look at these beautiful jewels created with the help of sapphires and tell us that you don't feel a twinge of sadness for not being born in September.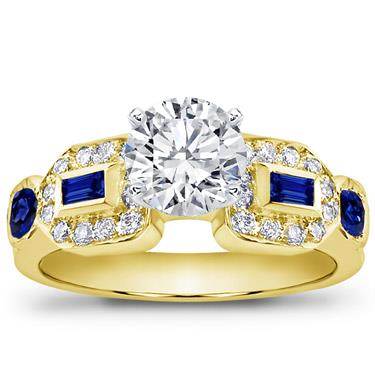 Bette, Pave, and Sapphire Engagement Setting

at Adiamor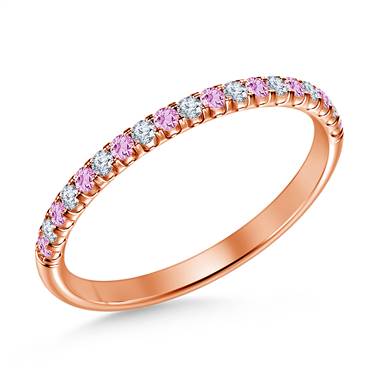 Pink Sapphire Gemstone and Diamond Comfort Fit Half Eternity Band in 14K Rose Gold

at B2C Jewels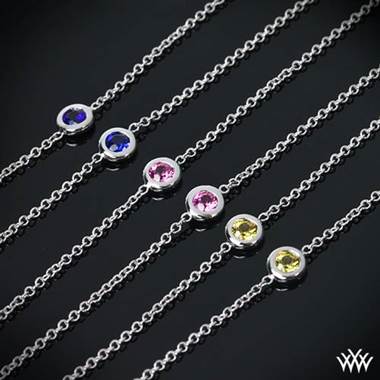 Platinum "Color Me Mine" Diamond and Pink Sapphire Necklace

at Whiteflash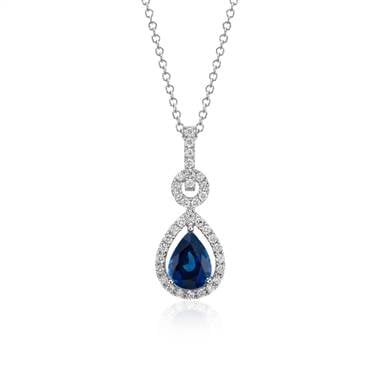 Floating Sapphire and Diamond Pear Pendant in 14k White Gold

at Blue Nile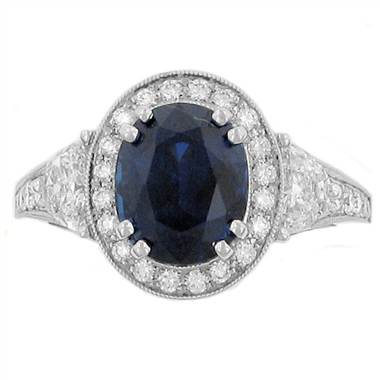 Coast LRK0103-S Unheated Sapphire and Diamond Ring

at Solomon Brothers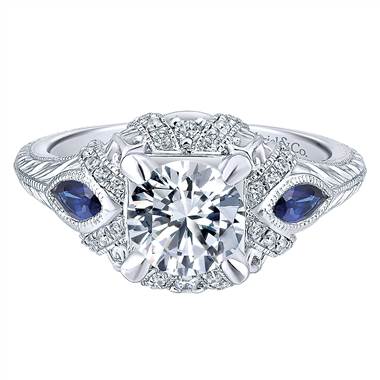 gabriel-co-14k-white-gold-diamond-and-sapphire-3-stones-halo-engagement-ring

at Gabriel & Co.
Want to see some more stunning Sapphire pieces, look here:
If you'd like to add your own to one or both of the above links, just click on the link and press "post reply" to add your comment and pictures. We'd love to see yours! 🙂
If you're looking for something special on a design or to shop, Type in pear cut / Sapphire in the search to browse in our "Jewelry Search" for YOURS!