We're T-minus one day from Valentine's Day and we know that there are some last minute V-Day shoppers out there. We also know that there are of few of you out there planning a proposal to remember for the ages on the most romantic day of the year. Of course we aren't going to leave you wondering which engagement ring to select so we've come up with two rosy options just for you. As an added bonus however, we're going to direct you to one of our favorite rose gold hoop earrings which aren't only right on trend, they're universally flattering and will leave you looking extra special for Valentine's Day.
Double Halo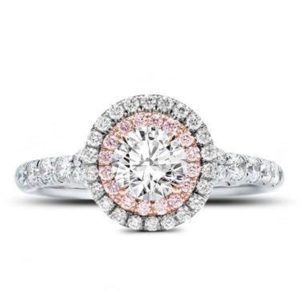 We love this engagement ring because it allows you to wear your heart on your sleeve and your love on your finger. The double halo makes the center stone look larger and adds an interesting element with the rose gold interior halo.

Solitaire
Is there a better time to give the gift of rose gold than Valentine's Day? Of course not, which is why we selected this rose gold beauty made even more beautiful by the daintiest round brilliant diamonds decorating the halo and band. Ah, if this isn't a reason to say yes, then we don't know what is.
Hoop Earrings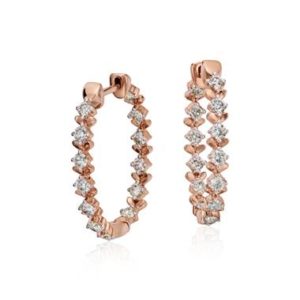 Ahhh, aren't these just the prettiest hoop earrings you've ever seen? We immediately fell in love the minute we laid our eyes on these spectacular rose gold and diamond hoops. This look is having a moment right now, but we truly believe these hoops will look amazing on Valentine's Day and the other 364 days of the year.
Valentine's Day is full of love, but also anxiety. Picking out the perfect present, particularly engagement ring, can be nerve wracking. But, that's why we're here! Now you can rest easy knowing we're here to help you find the best engagement ring and Valentine's Day look!

By PS Staff