By PS Staff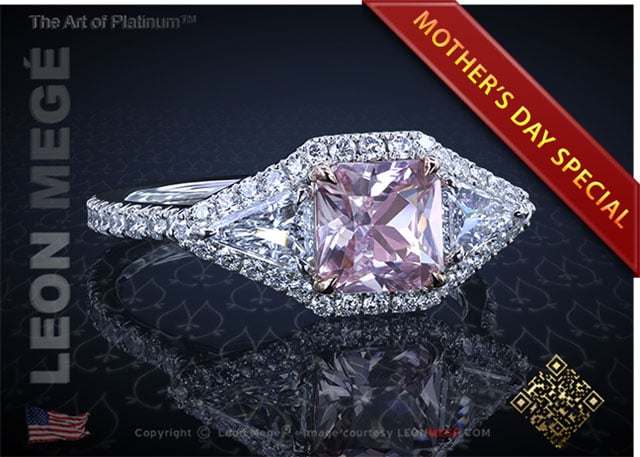 1.24 Carat Montpassier Pink Sapphire "Eye of the Passion" Ring r6707, $9,800 or Offer

at Leon MegéRomantic "Eye of the Passion" micro pave ring features a 1.24 carat natural sapphire in a light pink hue paired with brilliant diamond shields. Small white diamonds wrap around the magical gaze.
She carried you for nine months and you officially honor her for one day out of the year. Although between us, we know you honor her so much more. But we believe that if you're going to honor mom for one day a year, you should make it a good one. What gift could possibly be better than jewelry? Plus, anyone would be hard-pressed to find a mother who doesn't like jewelry. Below, we take a look at a few pieces which would make anyone's mother thrilled to call you hers.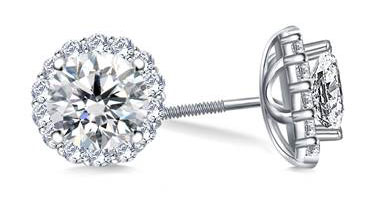 Platinum Halo Round Diamond Stud Earrings, $7,975

at B2C Jewels
We are big fans of diamond studs here because they are highly versatile. Diamond studs are a gift your mother will be able to wear for all eternity, whether she is dressed to run errands or attending a black tie gala.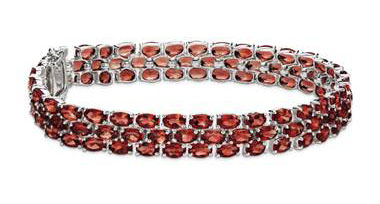 Trio Oval Garnet Bracelet, $280

at Blue Nile
Garnet is a stone that we believe has been overshadowed by diamonds and rubies. However, we know it is a beautiful stone which should be in every mother's jewelry box. It's rich, yet subtle color enhances settings without breaking the bank to have it placed in your mother's jewelry box.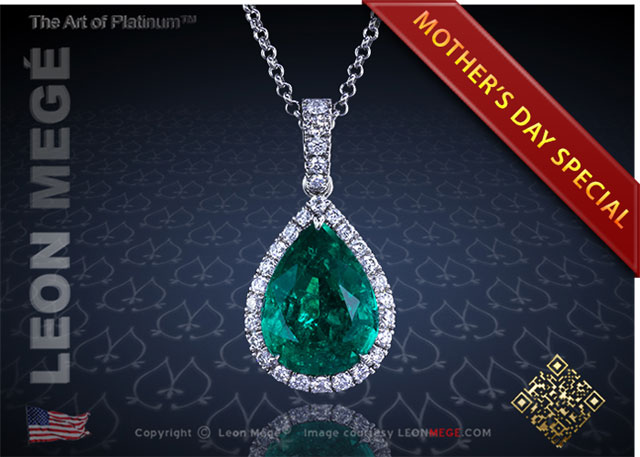 GIA 1.59 Cts Certified Colombian Emerald Pendant p7164, $6,800 or Offer

at Leon MegéClassic elegant custom made halo pendant featuring a pear shaped emerald. The center stone is delicately embraced by a micro pave halo that continues on the pendant bail.
One of our PriceScopers went to Colombia a few years back and told us stories about the country's stunning emeralds. She had discovered what many in the jewelry industry know; if you want the best emeralds, head to Colombia. Thus, since moms are the best, shouldn't they have the best emeralds for Mother's Day?
Mother's Day is the one official day of the year where you can show your mother just how much she means to you with everyone's favorite gift — jewelry.
Please Note: The pink sapphire ring and emerald pendant are from our Featured Sponsor, Leon Megé; these are his two SPECIALS for Mother's Day!
Blue Nile: Mother's Day Specials
Dates: 5/2 – 5/4
Offer: 40% off Symbols of Love for Mom
Code: LUVMOM16
Click here to choose from many Symbols of Love for Mom (link below …101052). Here is one great gift I chose: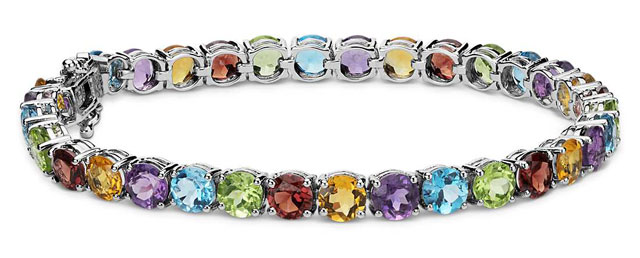 Multicolor Gemstone Bracelet, $129 at Blue Nile

Terms: Offer valid on select jewelry purchases on the following page: http://www.bluenile.com/atransfer.jsp?sourceid=101052 only, while supplies last. Cannot be combined with any other offer or discount code, cannot be applied retroactively. Without limitation, offer will not apply to loose diamonds, Build Your Own Diamond Jewelry®, Build Your Own Ring®, Build Your Own Earrings®, Build Your Own Diamond Pendant®, Monique Lhuillier Engagement, Truly Zac Posen Bridal, Colin Cowie Engagement, custom engagement, preset engagement rings, gift certificates, custom orders, backordered items and jewelry cleaning products. Discount will appear at time of check out AFTER the Promotion code LUVMOM16 has been entered and does not apply towards any duties, taxes or shipping insurance fees. Void where prohibited. Offer expires at 11:59 PM EST on May 4, 2016. The offer terms and conditions are subject to change at any time without prior notice. Other restrictions may apply.
Click here to search for more ideas (Resources >> Jewelry Search).
This year, Mother's Day is May 8th.