TitanCi originally posted this stunning diamond engagement ring on the Show Me the Bling forum at PriceScope.  There is a reason that the solitaire is the classic standard, this ring is absolutely beautiful and got a YES to boot!
The fantastic engagement ring center stone was procured from James Allen, and they did a phenomenal job. The setting was crafted by Engagement Rings Direct (now known as Brilliantly Engaged), and it features that stone brilliantly. I love that this was a big success, and that they re-visited a loved destination to make the proposal happen, and now we are revisiting this engagement ring. May the love and sparkle circle of life continue eternally!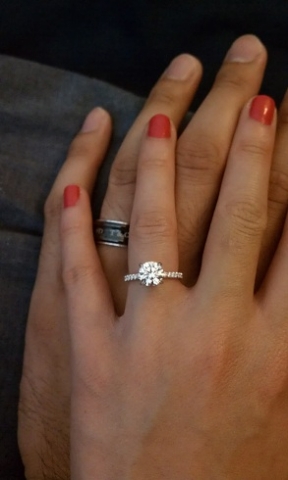 The Stats:
1.34ct GVS1, XXX (appraised at F color! Bonus!), HCA 0.8, AGA 1A
Visit the original post with more pics, and join me in congratulating TitanCi
On Throwback Thursdays, we celebrate beautiful pieces that have been shared over the years!
Thank you so much for sharing your jewelry experiences with us. Keep revisiting PriceScope's past with us each Thursday!
#TBT
Come show off YOUR fantastic bling with fellow jewelry lovers and trade professionals
Learn more about what diamond to buy from PriceScope