How Rap works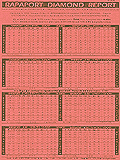 Rapaport Diamond Report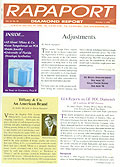 Rapaport Magazine
Rap lists diamonds in separate grids of carat weight, with prices in $100's per carat in rows from D to M for Color and separate columns for each Clarity grade (including SI3 which is a split of SI2 and I1).
Subscribers receive weekly updates of round prices and a monthly update including fancy shape prices (in the center pages of an informative magazine). Price rises are printed bold and rare falls are in bold italics.
Use of Rap has evolved over time. Traders establish discount levels by agreement between cutters, dealers, retailers and e-tailers that depend on payment terms and volume etc. Because Cut, Fluorescence and many other features like Symmetry and Polish are not included on the list there can be big variations in discounts. Some branded cuts change hands 'above' not 'below' Rap.
Do not believe stories of consumers making a killing using Rap. They probably never found out what or how many things were wrong with their stone! Professionals spend decades buying and selling thousands of diamonds and learn nuances of this simple list. If a dealer wants to sell you an old dog rejected by the trade you have no hope. Some diamonds with great looking certs can retail for 50% back. That is why we recommend an appraiser look at your purchase, even before you do.
Sample of a typical layout for a Rapaport style price list – prices are in 100's per carat. (These are not accurate values – do not attempt to use this information for any purpose)
ROUNDS
RAPAPORT: (X.XX-X.XX CT.) MM/DD/YY

 

IF

VVS1

VVS2

VS1

VS2

SI1

SI2

I1

I2

D

141

101

87

73

64

57

48

38

34

E

92

90

77

68

62

53

45

34

30

F

87

77

69

64

59

50

42

33

28

G

74

68

65

60

55

48

40

30

29

H

62

57

52

51

48

44

38

28

27

I

51

48

45

43

40

38

33

27

25

J

40

39

40

37

35

32

31

25

24

K

36

35

34

32

31

30

25

25

23

L

35

34

31

30

28

27

25

23

22

M

33

31

29

27

26

25

23

21

20
Traps with Raps