Sun Wave
(Mon, 08/01/2005 - 06:29) Wink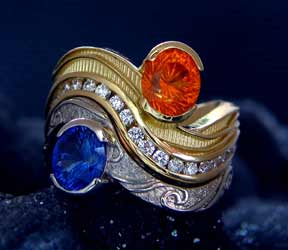 728 viewes
This piece was custom made and designed for a client who wanted to have the Boise State Bronco's colors in a ring for his wife. I spoke with Ocean Pearlman, a wonderful designer in Tucson, Arizona about making me a special design.
I also spoke with Richard Homer about cutting me two stones, an orange garnet and a blue sapphire for her in a size that would not overpower her hand. This is the picture of the set, taken by Randy Hays before delivery to my client. The white ring is the wave pattern with the blue sapphire and the yellow ring is the Sun pattern with the orange garnet.
Both rings look nice when worn separately, but like a familiar married couple, they look so much more complete when they are together.