Joined

Jun 23, 2010
Messages

117
After years of thinking "I only love simple jewelry with really clean lines and only modern cuts," I got bit by the antique cut bug. I have had a 1.23ct AGS0 solitaire since 2010 but DSS sunk in and found myself wanting to upgrade to a larger antique cushion or OEC. When Grace was in NY for the Antique Jewelry & Watch Show in July, I spent a bunch of time trying on her cushions and decided that I wanted something that was at least 2ct and in the lower color range. Had I not just purchased an new eternity band in May from IDJ, perhaps I would have walked away with one of her 3ct cushion rings that day...
Fast forward a couple of months, and I had been checking out cushions on a bunch of different sites, including GOG's August Vintage Cushions. Last week,
@mrs-b
posted her 1.93ct R VS2 AVC for sale and I pretty much emailed her immediately about it. I recognized it as one of the sold stones I "visited" on the GOG site and always wished I had bought first. On Friday, I was working from home but was super distracted spending more time thinking about the stone and what I'd do with it rather than working on my spreadsheets

. Because the size is smaller than what I was originally searching for, I went as far as cutting out little pieces of paper the size of the AVC and 2.5ct stones and comparing how they'd look on my ring finger.
Later that night, I finally decided that I'd take the leap of faith and buy the stone; it was just too good of a deal to pass up. The package was shipped on Monday and in my eager hands by Wednesday. When I opened the box and looked at the stone the first time, I'm pretty sure I gasped and had to hide it from sight for a few seconds before peeking at it again. For an R, it was brighter white that I was expecting (fluorescence woo), but what really got me is the gorgeous faceting and fire... oh the colorful flashes are breathtaking. The pictures and videos I had already seen just do not capture the liveliness of the diamond... it's... I just don't have words for it!
Funny enough, back in 2010 I posted my jewelry wishlist on PS and owning an AVC was #3 at the time. Guess I can finally check that one off the list
I'm pretty sure I have exhausted my jewelry funds for this year, but now I can take my time and think of the perfect forever setting for this beauty!
Stats
Weight: 1.93ct
Color: R
Clarity: V2
Dimensions: 7.31mm x 7.54mm x 4.97mm
Cut / Polish / Symmetry: Ideal
Fluorescence: Medium Blue
Table: 0.442
Depth 0.68
And of course, I took some photos first thing this morning. All shots are taken indoors with natural sunlight around 7:30am using my phone. The stone was not feeling very photogenic! In general, the photos are A LOT warmer than what I see in person, so will try to take more pictures tomorrow with better lighting.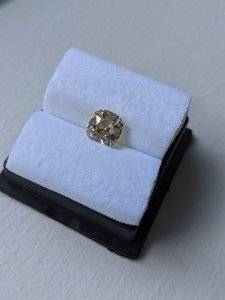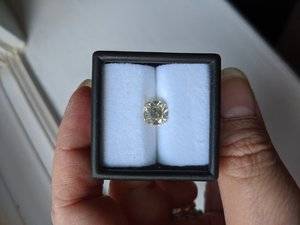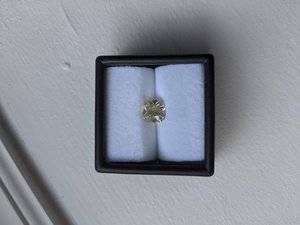 On my hand, next to my 1.23ct J VS2 AGS0 round from Brian Gavin and my 4.1 tcw F color east-west oval eternity band from ID Jewelry (I didn't post it earlier this summer... bad PSer). The eternity is 13 x 30 pointers.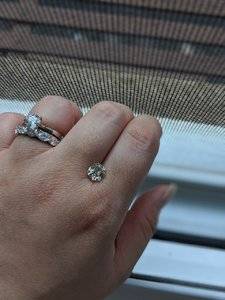 Another hand shot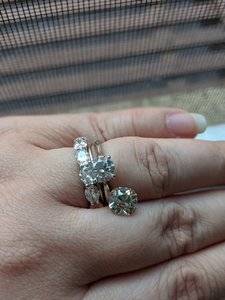 J color MRB vs R color AVC vs F color ovals