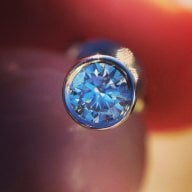 Joined

Jul 7, 2004
Messages

10,743
Not many of you know what''s been going on in the world of Ame lately, so here''s the hollywood minute.
I had some problems with my full-eternity wedding band within the last month or so, I had chipped a stone, also on a shopping cart I believe (I am such a copycat!), and had to have it replaced because Im insane. *curtsey*. Somewhere in the process, either my own negligence or otherwise, in the process of this stone being damaged and/or changed, upon the return arrival of my full-eternity, I spotted a crack in the mounting under the previously damaged stone. It, to me, and my generally blind husband, was pretty obvious without magnification, at first we thought it was a black fuzzy, though a loupe certainly made it noticeable and identifiable. And kind of interesting to stare at. Because you all know I did. At 30x for like an hour.

I immediately phoned whiteflash (of course after their working hours) in my usual panicked state and was surprised to hear a voice on the line! I spoke with Lesley (she was the unlucky soul who answered) who was super-apologetic, wanted me to speak to Brian himself. Brian called me back not long after and assured me that they would handle it, he would just remake it, and we decided to make it over as a half-eternity instead of a full, he had me hold on to the other ring in the meantime so I had something to wear. That was fantastic customer service. They didn''t HAVE to do anything for me, but the did, and they bent over backwards and did cartwheels for me.

Going half-eternity is probably the greatest idea ever. I am almost positive that it would take me doing something incredibly stupid, not unlikely, to damage that. So, after annoying the crap out of all of the whiteflash staff for 2 weeks, my new HALF eternity 3-pt ACA band was born.
Now, most of you know that this week was a CRAZY

week for Whiteflash as they are located in Houston, which until yesterday, was in line for a direct hit from what was originally a Category 5 hurricane. LUCKILY it didn''t hit Houston/Galveston, but UNLUCKILY it hit land and didn''t just collapse, though again, luckily, was no longer a 5 by then. In that time, I was annoying the ever-loving hell out of Denise, Lesley, Brian and JohnQ with the whereabouts and progress, when instead I should have just said "get the hell out of town. yall". But because they ROCK like Whitesnake, they not only got my ring done in time, working countless hours past their actual business hours to get my precious to me, they made sure they took it with them to ship to me from wherever folks ended up, which I also thank them for.
I am not a good customer to do work for as I am a freaking dictator

and such a freaking nitpick with probably unrealistic and impolite expectations on other people

, but for a company to do this for me, not only risk lives to get it done and to me in this weather situation, but to remake it differently as to prevent future episodes...THAT, my friends and enemies, IS CUSTOMER SERVICE.
While I wish the communication of their timeline on this job was better up-front, I cannot fault them for my own impatience and dictatorship. This ring is PERFECT.

.
Because we worked out a fair credit for the remake, I used most of that towards a 2-mm plain platinum band. Which is disturbing me to say I LOVE it SO much. Because it''s SO simple.



So...without further adieu...the photos.
I could only get one to show color because my camera seems to hate color...but BOY are they sparkly.