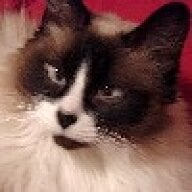 Joined

Feb 28, 2007
Messages

2,146
The title of my thread should be edited to: Yet another shampoo/conditioner advice NEEDED thread! (I wish I had good advice to give!)
I will be getting highlights on Thursday (partial) and have not had them for a long time. When I did have them, I had the darndest time finding the right shampoo to keep my hair hydrated. My hair is shoulder length, fine and I have been told by several stylists that I have a ton of it (never been told I have thick hair though, go figure). My hair is straight to wavy, depending on the level of humidity. Though I like to refrain from heat styling as it gets warmer, I know I will use my hair dryer and also will use my GHD flat iron when I want to go straight. I plan to buy a salon quality hair dryer and probably going to go with one of the Chi's out there.
So, getting back to my issue, I am looking for high quality hair care products to take care of my highlights. The last few times I had them (over 5 years ago), my hair became very dry and I was using salon products. I currently use Chi iron guard, straight guard and the serum for blow-outs and when I flat iron, which have all worked well. However, I am wondering if in the addition of new shampoo/conditioner, I will need additional leave in products. So any suggestions would be helpful.
Also, I have searched through past threads here and found that Pureology, Kerastase and Aveda seem popular picks for color treated/highlighted hair. However, I was wondering if anyone using these products (or others) with my hair type (or similar) could suggest a particular line of those (or other) products I should try using.
PS>>>>thanks to everyone who posted to threads concerning flat irons. Information on those threads lead me to my beloved GHD! I was so close to getting a Chi, but I after a flat iron test between the GHD (from Sephora) and my mom's Chi nano, the GHD was easier for me to use (it should be noted that I am really bad at styling my hair...but my mom's thick/course hair looks great after she uses her Chi).