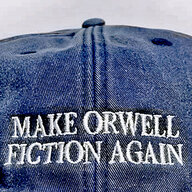 Joined

Apr 30, 2005
Messages

28,947
I am grateful for all your good wishes and prayers

I'm posting from my private hospital bed with a lovely view.
They have WiFi so I brought my laptop.
They must pay well since I've seen several honking diamonds on nurses here.

Yesterday they put me under 7 AM and woke up at 1 PM.

Post-op they started me out on Morphine, which proved ineffective so they changed it to Dilaudid, aka Hydromorphone.

Here is a snip from Wiki:
Hydromorphone is used to relieve moderate to severe pain and severe, painful dry coughing. Hydromorphone is becoming more popular in the treatment of chronic pain in many countries, including the United States. Hydromorphone displays superior solubility and speed of onset, a less troublesome side effect profile, and lower dependence liability as compared to morphine and diamorphine. It is thought to be 3–4 times stronger than morphine, but with a lower risk of dependency.

Hydromorphone is, therefore, preferred over morphine in many areas ranging from the ongoing treatment of chronic pain syndromes, the emergency department to the operating suite. Hydromorphone lacks the toxic metabolites (e.g., norpethidine) of many opioids related to pethidine and some of the methadone and tends to cause less nausea than morphine. It is a common alternative for those tending to have hallucinations from fentanyl administered through dermal patches and other dosage forms.
In addition to the above, hydromorphone usually proves to be the best alternative of choice to morphine and fentanyl in severe chronic pain, especially for severe breakthrough pain.