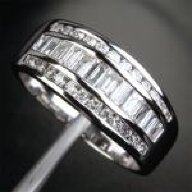 Joined

Oct 13, 2011
Messages

104
Hi.
I've been searching the internet for any information available.
As I can see, there's very conflicting minds about Yellow Sapphire's.
Some people say their worth much less than a Blue Sapphire's but many disagree, I've even seen companies got different opinions about this one.
I got a 2.45 carat Canary Yellow Sapphire.
It has a Lab Report from Emil Gem Laboratory (Japan), but I will get an AGL Report for it this November.
On the Emil Report it's stated;
Weight; 2.455 carat
Measurements; 7.18 x 8.35 x 5.17
Shape/Cut; Drop/Mixed
Transparancy; Transparent
Colour(s); Yellow
Comments: Natural sapphires are generally enhanced by heating. No positive microscopic evidence was observed concerning either the natural or enhanced condition of this stone.
I also got this Sapphire's checked at a Local Jewelry Store - and they told me it's a VVS1 but could even be a IF/FL.
The Origin was Natural, not synthetic - but they couldn't tell me more about it because Gemstones is not familiar in my Country at all!
The picture is taken of the actual Sapphire - pictured by EMIL, and yes, the color is that deep/vivid IRL as well.
I've been looking at different gemstone-site's online, but cant find anyone with matching color that has NOT been Heated/Enhanced!
Any opinions about value???
Please let me know, thanks!