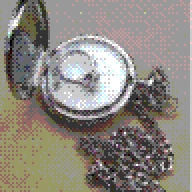 Joined

Apr 14, 2006
Messages

3,929
We had our first anniversary this weekend. Paul planned a trip to Jekyll Island, Georgia. It was a great three day getaway, even if the cold weather followed us to the beach!
So, we packed up our top tier of the wedding cake in a cooler and off we went. Neither of us thought we''d really eat it... more of just taking a bite and saying we participated in the rather odd tradition.
But you know what? That cake is GOOD! I don''t really remember a lot about the taste of it at the wedding, but I''d take a risk and say it was even better a year later. Crazy, but Paul says the same thing.
So, for all of you who are yet to be wed, let me tell you the way we kept the cake super moist inside: my bridesmaids came back to the apartment after the wedding and put the cake in a cake container (like the kind you get at the grocery store with the plastic dome over the top that makes that loud popping sound as you open it from the bottom plate) and put it in the freezer. When we got back from the honeymoon, the cake was frozen solid and I took it out of the freezer and wrapped it over and over in layers and layers of plastic wrap, and then put it back in the cake container and into the freezer. It was my mom''s idea and it worked like a charm. The container took up a lot of room in the freezer, but it was worth it.
What was going to be a one day break from my diet has become a 4 day break; I''ve had cake with my husband every night since Sunday.
Something about a purple cake just makes me smile!!