Joined

Nov 21, 2014
Messages

63
Hello all,
I'm happy to finally have my earrings.
I've been planning this for months and admiring all of the posts on the Diamond Studs....
First I thought I was going to go for .60-.75 ct ea stones , but then the presence just wasn't enough in my mind for me, so I debated and then finally went to DH and asked for his approval to use my original engagement ring center for one of the earrings . To me, it just made sense. My original engagement ring sits in a box and is kept at the bank, so I just thought it should see the light and get some wear.
So, with DH's approval, I set out to find a mate for the stone. The original was bought from Jonathan at
GOG
15 years ago. While she is a beauty with lots of fire, she wasn't in the right setting and I always wanted to upgrade, which I did about 4 years ago, so she has been sitting alone.
She is a GIA 1.06 FVS2 EX VG about 6.56 mm I believe. Now her mate is 1.09 FSI 1 XxX
JA
True Hearts.
They are both set in a platinum 4 prong basket setting with a low profile with large pushbacks and thin claw prongs. They have a nice size presence on my earlobes.
Thanks for all those that helped me decide on whether I should go with a 4 or 6 prong setting and whether platform white gold in Rocky Talky.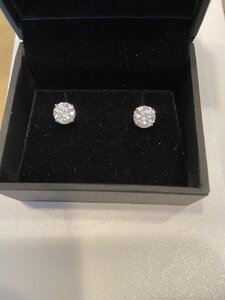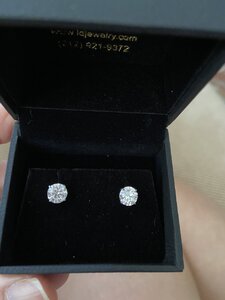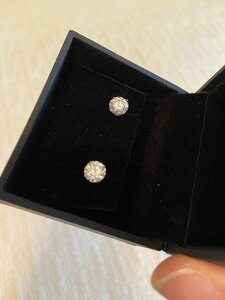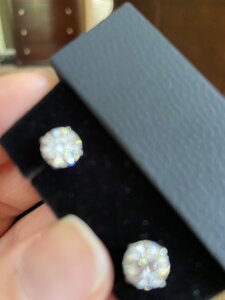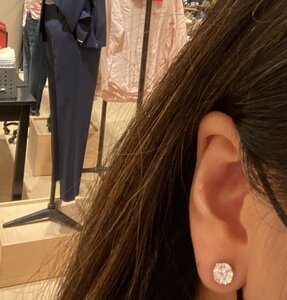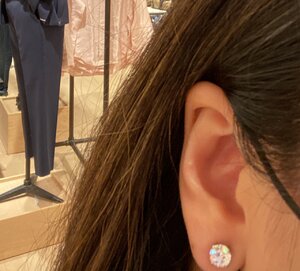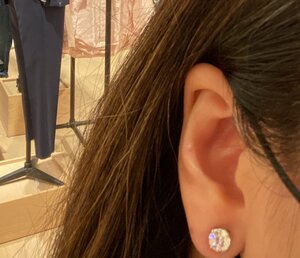 I went with 4 prongs since the original was in a Vatche 6 prong setting and all of the metal just seemed to always bother me.
For those that have diamond studs, do you wear them all the time? i.e. to shower, to bed etc?
Let me know what you think!!