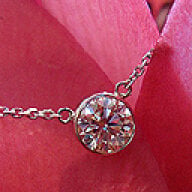 Joined

Oct 30, 2002
Messages

31,003
Per discussion in the WWT''''s....this is an ongoing thread with just healthy-ish or ''''lighter'''' version recipes posted by WWT''''ers or PS''''ers.

Please ONLY post recipes and any comments about making the recipe or results. Any DISCUSSION or REVIEWS on the recipes posted here can be posted about in the WWT as we do now....we just want to keep this a recipe only thread to make it easier for people to find what they need.

Ideally when you post a recipe, put in calorie information and if you have it, fat, fiber, protein etc. If you don''''t have that, just put what you have.

For readers, you can always calculate out the recipe yourself using
www.calorie-count.com
for ingredients or just by making the recipe yourself and then writing down what you used and calculating it using the nutritional information found on most packaged goods (aka flour, eggs, milk, etc all have it listed on each container).
_____________________
So here''''s one I have posted a few times in the WWT....Oat Bran muffins with various fruits!!
Oat Bran Muffins (with apples, cranberries and raisins!)
1 cup all-purpose flour
1 cup whole wheat flour
1 3/4 cups oat bran
3/4 cup packed brown sugar
1/3 cup nonfat dry milk (i nixed this completely as i didn''''t have it!)
1/4 cup flaxseed (i made this 3/4 cup flaxseed! more fiber!)
4 teaspoons ground cinnamon (i think i put in more like 6..mmm cinammon makes everything better right rod?!)
2 teaspoons baking soda
2 teaspoons baking powder
1/2 teaspoon salt
2 cups shredded carrot (i didn''''t have a carrot so instead i put in about 1/3 cup of cranberries)
2 cups chopped Granny Smith apple
1 cup raisins (i only used about 1/2 cup because i put in the cranberries which can be high calorie)
1 cup fat-free milk ( i used 1%)
1/4 cup canola oil (i only put in about 2 tablespoons of enova)
2 teaspoons vanilla extract
3 large egg whites
1 thin-skinned orange, unpeeled and quartered (i nixed this because i didn''''t have an orange plus with the cranberries the fruit thing was outta control!)
Cooking spray or cupcake paper cups
(NOTE...i also added 2/3 cup of boiling hot water to the dry mixture and let it sit for about 5 minutes, i read on another bran muffin recipe that doing this makes for a more tender moist muffin as it lets the brans and flaxseed ''''absorb'''' a bit of the water before baking..i felt okay adding this additional liquid because i added extra flax seed which i figure could use the extra moisture to help absorbtion!!)
Preheat oven to 375°.
Lightly spoon flours into dry measuring cups; level with a knife. Combine flours and the next 8 ingredients (all-purpose flour through salt) in a large bowl, stirring well with a whisk. Stir in carrot(cranberries!), apple, and raisins.
Combine milk, oil, vanilla, egg whites, and orange in a blender or food processor; process until smooth. (I didn''''t do the food processor, I just whisked for a few minutes since I didn''''t have the orange in there). Make a well in center of flour mixture; add milk mixture; stir just until moist.
Spoon 3 tablespoons batter into each of 28 muffin cups coated with cooking spray. Bake in batches at 375° for 20 minutes or until muffins are browned and spring back when touched lightly in center. Remove the muffins from pans immediately, and place on a wire rack.
Yield: 28 muffins (serving size: 1 muffin)
NUTRITION PER SERVING
CALORIES 114(22% from fat); FAT 2.8g (sat 0.3g,mono 1.3g,poly 0.8g); PROTEIN 3.5g; CHOLESTEROL 0.0mg; CALCIUM 61mg; SODIUM 188mg; FIBER 3g; IRON 1.1mg; CARBOHYDRATE 22.6g. Cooking Light, NOVEMBER 2002
NOTE: I figure with my modifications the calories might be closer to 160 esp since I tend to make my muffins a bit bigger than the recipe (i will end up with more like 20 muffins intead of 2
so that also accounts for most of the extra calories. But either way, 114 or 160, it''''s still a great snack with lots of fiber (more than the recipe if you add the additional flaxseed like i did) and fresh fruit and dried fruit and all sorts of yummy cinammon vanilla goodness.