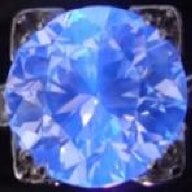 Joined

Apr 26, 2007
Messages

8,087
Okay, y'all: moment of truth. When confronted with a gorgeous antique and an opportunity to possibly improve on it, do you go whole hog, take half-measures, or leave well enough alone?
I finally put my thread up in SMTR - feast your eyes, babies! and join me in praying for sunshine, so I can get some
decent
pictures - here's a linky so you can get a decent look:
https://www.pricescope.com/communit...ng-2-5-carats-of-transitional-cut-joy.166379/
I'll add a few images down below and a profile shot so you don't have to go out of your way (and so I don't have to repost all the images!).
So, here's the thing: initially when I was shopping, I was assuming that I'd blow the whole budget on the stone and have to put it in the simplest setting possible, to reset for next year's "official" five year anniversary. Instead, I'm left with about a third of the budget, so I can probably get my dream setting ... but should I? The stone is in great shape - the girdle is very thin at points, and there's a natural, but no chips, and the fishtail prongs provide more protection that
most
settings, so I shouldn't be too paranoid - and the setting is in pretty good shape, which I bet my bench could fix completely. It's a little dinged up, and it looks like the original owner wore bands on either side because the metal bows in slightly, but ... on the whole, things are copacetic.
So I find myself stricken! David Wolf, whom I went to for my appraisal, said it was a crime to go messing with antiques that survived in good shape, and called it a time capsule: he also didn't think that faceting the girdle would necessarily improve the color. And it measure 1.4 as a FIC on the HCA, so it's not like it needs a recut - it's a shiny little firecracker. So it's basically a question of ... I dunno, gathering ye roses while ye may. Hence the poll!