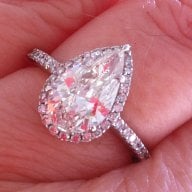 Joined

May 23, 2010
Messages

6,731
Why are all these weasels from the FBI coming out with made-up BS about Hillary?
Oh, yeah, she defeated (Senator for NY) their hero Rudy Giuliani a few years back. An awful lot of New York FBI agents
hate
her because of this.
So now they've said "She received emails!!!"
And I guess if you don't read facts, or actual information, and listen to the scary

tone of voice used to say this, you could think something important is happening.
And now another one is running around saying they're going to indict her any minute now.
What a load of BS. I think the President needs to step in and either tell them to shut up, or plain fire their butts. FBI shouldn't be playing politics. Remember, one of the first things Hitler (and most any dictator) did was get the support of law enforcement.
Sexist, sore loser BS. Unbelievable.
Why isn't Trump being indicted for stealing money from his own "charity"? Isn't that fraud?
To lighten things up, Trevor Noah, says Hillary is living the black experience. Funny video and so true.
http://www.huffingtonpost.com/entry/hillary-clinton-black-experience_us_581ab7ace4b0c43e6c1e1ac5