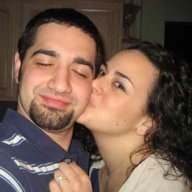 Joined

Jan 14, 2009
Messages

37
Here''s a really good reason why us ladies should either be involved or NOT involved in the whole ring process.

My FF said he would love some help for price quotes, etc from a jeweler in Michigan his family is fond of. They''re a great jeweler, huge store, beautiful custom work, and the saleswoman was prompt in getting back to me and very helpful. We go back and forth for a few days and at the end of our emails, I say, "It''s out of my hands now, my FF is taking over and doing the rest of the work!".

So, FF goes with his mom almost six weeks ago to the store while they were having a bridal jewelry show. I was almost 80% positive that he bought a ring that weekend. Then, a few weeks go by and I''m getting antsy. I try to bring the topic up a few weekends ago and my FMIL basically confirms that he has the ring already or will have it shortly. I''m all excited and anxious for him to propose then but still don''t really know what he ended up doing ring-wise (we had also been looking at a local jeweler who quoted a great price, so I wasn''t sure).

Now the good part. I''m reading my email this Monday and an email comes through from the saleswoman, "Sooo, how do you like your rings?! Just making sure they fit okay! Let me know!"

EXCUSE ME!?!??!

I try to be cool and collected and write back that I haven''t received any rings yet, so I''ll pretend that I didn''t see her email. She responds, "SOOO SORRY!!" and then a few minutes later with a backtracking email, "Hi again, I know your FF was here but I don''t really know if he bought anything yet, sorry for asking before I knew, blah blah blah...".

Luckily, she really didn''t ruin any surprises but COME ON!!! Wouldn''t you check with the guy first to make sure he''d already proposed!?!?!!?!

In the end, I was a little mad at first but then realized that since no surprises were ruined or anything, no harm done. And now I''m just curious about the ringS, plural. Hmmmmmm...