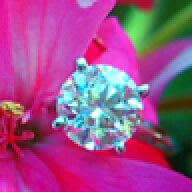 Joined

Jun 28, 2005
Messages

782
I just purchased a really sweet, dainty diamond wedding band from a jewelry show. The ring is vintage with engraving on the inside "T.K.C. to C.C.H. 12-13-32 18K". The ring is a size 5.5 but my right hand ring finger is a 3.5.

I''m wearing the ring on my index finger at the moment, but I''d really like to wear it on my ring finger.
Here''s my question: Should I get the ring sized down to fit my ring finger and lose the engraving?
I think I'd feel a bit guilty if I size it - like I''m defiling someone''s ring. I''m sure C.C.H. is no longer w/us, but that''s even more of a reason I feel like I should just wear the ring as is. I''m a sentimental dork, I know....
What would you do?