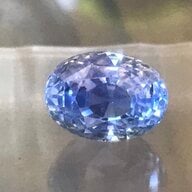 Joined

Jul 14, 2020
Messages

274
Or to be more accurate - should I bid on it? (As it's in an auction)
I keep going back to this ring. It's haunting me. Min bid is $2500aus.
It comes with a valuation of $28,000 but no certifications. Auction house is estimating around $5000.
I can't afford that but could do the $2500 if I was in love - which I fear I might be. Will have to sell a ton of handbags and clothes to balance it out - lol
Have a look and tell me what you think please. All opinions welcome.
Buy At Auction. Platinum oval cut sapphire (1.70ct) and dia, 18ct WG oval cut tourmaline (2.83ct) sapphire, 18ct WG 3 x burmese sapphires (3.62ct) and dia, 18ctWG sapphire (4.91ct) and dia, 18ct YWG sapphire (1.05ct) and dia, 18ct WG sapphire (0.52ct) and dia, 18ct WG pink sapphire (2.70ct) &...