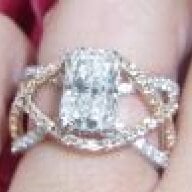 Joined

Mar 22, 2010
Messages

624
Between a 4.25 carat asscher eternity band and a 6.25??
I would love to try to find a side by side of a .25 asscher and say a .40 asscher??
I am trying to decide if there would be a big enough visual difference to be "worth" doing the bigger one.
Yep I know worth it is a personal choice but you all know what I mean. For reference I have a 4.5 finger size and this wouls be a stand alone ring. As for setting I am leaning toward a uprong in platinum.
THanks in advance for help and or input