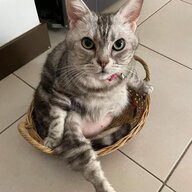 Joined

May 4, 2021
Messages

114
I'm looking to buy an
"
Octavia
"
Asscher cut moissanite (heavy emphasis on the quotes there as I know it's not the original), as a for-fun ring, but I can't decide on the size of the stone.
I'd like to set it in a kite-set solitaire, since my peach sapphire just won't do in it—see my prev posts. I'm not sure how much the whole kite-setting would affect which size I should ultimately go for.
For reference, my ring size is 5.25.
There
is
quite a difference in price between my three options below (all three are GHI colour).
I originally wanted a 10x10 mm but I balked at the price

10x10 mm (5 ct equivalent) - $360
9.5x9.5 mm (4.5 ct eq.) - $320
9x9 mm (3.5 ct eq.) - $260
I still have to pay for the setting, which will come out to around $250-260 for 18k RG...
So, would the 0.5 - 1 mm difference really matter? Will it make a difference, visually? Do you think I'll be happy with the 9x9 mm?
I mean, I know my wallet will, but will
I
???

Thanks all