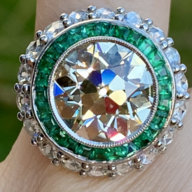 Joined

Sep 18, 2003
Messages

272
I bought this mid-20th century cluster / cocktail ring for the pear-cut diamonds, intending to reuse in one or more new rings around a colored stone -- there are 14 of them, and 13 are matching in size, 4.5-5mm x 3-3.5mm.
So far I am still intending to take it apart, although I feel a bit guilty.. it's clear that some tiny old lady loved this ring. She modified it to add a 14k finger-fit shank to the platinum top, and it's a size 3 although with sizing beads it fits more like a 3.75-4 on me.
It's a strange kind of asymmetrical leafy lump design, looks beautiful from the top but I hate the ballerina undercarriage.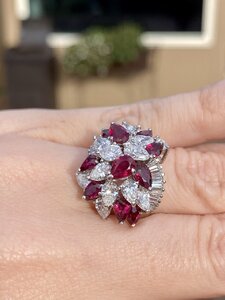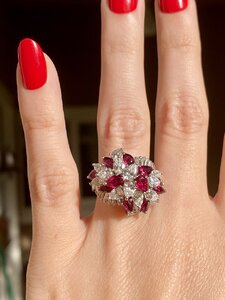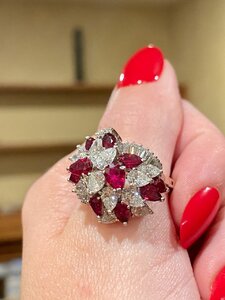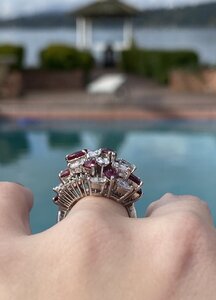 The ring has 11 pear-cut rubies, similar in size to the diamonds, and mostly matching or at a minimum making pairs. They are a deep purplish red color with hot pink or red sparks, and have sleepy inclusions. I do not yet know for certain that they are natural, but suspect they are based on appearance and the value of the diamonds in the ring. The rubies that are more exposed in the setting have abrasions so if I reuse them I think I would have to get about half or more of them repolished if I was going to reset them.
I don't know anything about rubies, or whether or not this color is desirable. Ultimately I have to decide based on what I like, but I'm curious, what would you do? Does anyone have thoughts on their color?
Thanks in advance!