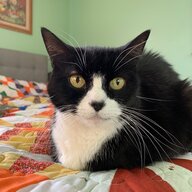 Joined

Aug 14, 2018
Messages

2,598
As some of you might know I put my existing studs on the market for sale, but I know how tough it can be to sell to an individual when the price tag is high. I have 3 ctw diamond studs that are GIA SI2 and I in color; one is triple x and one is xx VG. Anyway I have also asked a couple of local jewelers what they might offer me. For their offer I could probably use those funds to get 2ctw ACAs (and I would still have to put forth some $$ on my own). I have never seen these types of super ideals irl, and I was wanting your input. Are the ACAs so mind-blowing that it would be worth it to go down that much in size? I had 2ctw for years and loved them, but I definitely love the bigger presence of the 3 ctw on my ears especially since I have large lobes.
If I did get more for them than what the jeweler is offering me and I went 3 ctw, I would have to go down from an I to a K in color. That also concerns me a bit, but not too bad because I am not color sensitive.
Finally, I remember
@mrs-b
saying you can do the work to find GIAs that fit the proportions of ideals and thus they are unbranded and cost less. Was wondering how significant of a savings (10%? more?) this might be. I like the idea of just knowing that
ACA
will fit the bill, especially with the generous upgrade policy
WF
has. So anyway just a bit all over the place at the moment!!!
For reference I am attaching a pic of my GIA reports (edit; the image is coming out small; GIA numbers are 2366389729 and 6341591695)
so you can see what they are like and how they might compare to
ACA
or equivalent; also I am posting a pic (can't find a really good one and not wanting to take a new one asap) of my earrings in my ears to show the presence of 3 ctw on ear.
Thanks everyone!!