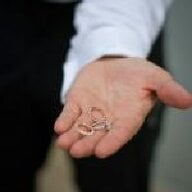 Joined

Dec 8, 2011
Messages

1,304
What is the worst wedding gift you received?

I'm not sure if I mentioned this before but DH's family probably tied on a few wedding gifts that were just a mess! My all-time favorite of the worst was a stand up photo album (one of those that hold 4*6 photos that you flip). The part that made it the worst is that the the album said 'Prom 2005 On the Edge Of A Dream' or something like that. We didn't see that right away (it was in a gift basket full of other crap that we have either thrown out or tossed in our 'to yard sale' pile), but when we did see it we thought it was the most hilarious thing! Clearly they were running around their house thinking of what they could pile in a 'gift' basket for us at the last minute! Love it!

So what is your worst?