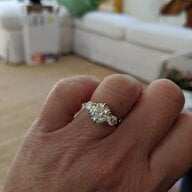 Joined

Jun 20, 2013
Messages

4,814
So I've been trying to put together a "travel ring," and since I'm a size whore, I wanted it to be close to the size of my rings I wear now. Caysie got me an antique cut harro gem. I had high hopes, but could tell IMMEDIATELY when I opened the box that it was fake. It was too "pastel" and had almost a plastic look to it, so I returned it. I searched around and found some forums and people raved about wink's cz's. Because he is no longer cutting them, stock is VERY low. I wanted an old mine or something similar to an AVC and I called Melissa.
Wink and Melissa are amazing, BTW. A joy to work with. She went through the remaining stock and told me she had a 9x11 cartier cut in light yellow. She sent me a link to a video of one and mailed it out the same day. When I got this stone, I was blown away. It looks exactly like a diamond. It performs like a diamond, it feels like a diamond. It's going to make a really great travel ring and I might even wear it out now and again because it's so stunning.
The stone looks to be about an O/P color. I am going to set it in this jewelryhoo in 18k yellow gold (18k was only $60 more) solitaire setting.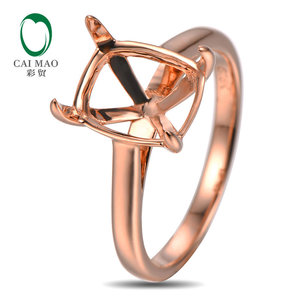 So here are the pics. I will upload a video to youtube soon too. Because the video is amazing- just ask DS!