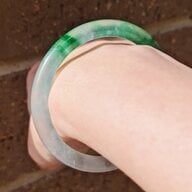 Joined

Mar 28, 2009
Messages

3,622
...Yikes I can't edit the title! Obviously I meant to type band not bang!
Hello everyone, I am a first time poster. I have been quietly reading and enjoying all the beautiful jewelries posted on Pricescope for the last month, and I like them all, from the colored stones to the OECs.
I am thinking of getting a wide pave diamond band but I haven't found many posted in the forum. If anyone has any please do post some photos of their beautiful pave bands here.
I found this one from an online jeweler that I purchased from before, but for various reason I don't wish to purchase from them again if I can find a better vendor, but I am willing to purchase from them again if I can't find something else suitable.
Could someone who is knowledgeable tell me if this ring is well made? I am not sure if it is possible from a couple of photos. Also is square band comfortable?
Any other suggestions/alternatives is most welcome.
Here're some photos: