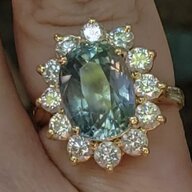 Joined

Jun 14, 2018
Messages

551
I have never really been a diamond girl. I've always loved colored stones and have collected for almost 20 years. When hubby and I decided to get engaged, I told him I had a FCD to use, so he just bought a beautiful platinum setting and matching band for it. He thought he got off easy! But since being on PS and being exposed to antique diamonds and old cuts I started a new love affair and hubby was in big trouble, lol!
Long story short, here is my new-to-me OEC (GIA says circular brilliant) in a temporary setting. She is an O-P color and 3.63 cts with a teeny-tiny table of 41%. I bought her from a fellow PSer
@imdoubler
. Man, I had no idea how hard it is to photograph a diamond, so forgive the sorry pics. I can't capture the colors that she throws, so I will have to practice. She truly is a sparkle bomb.
Thanks for looking, as it's hard to share my excitement with my people irl, but I know ya'll will understand and not judge!