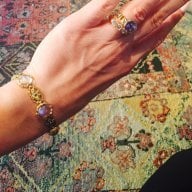 Joined

Apr 22, 2017
Messages

4,171
This is a great topic! This is a long gem history! I have loved gems since first consciousness. I was literally digging for crystals by age 3 in the backyard with a spoon after my dad told me that diamonds and gems are in the ground. Both of my grandmothers loved jewelry, and one became a jeweler. However, neither parent had any understanding of my lust for gems and jewels. I had a diamond ring written on every Christmas wish list in childhood. I rarely got any jewelry. When I was 10, I used to play with my mothers pearls, longing for them. I could stare at them for hours just dreaming!

At 13, my mother agreed to buy me a sapphire ring because my best friend had received an aqua ring from her parents. I swayed her by telling her that everyone had one at school. At 18, I got a strand of akoyas which I treasured. I was thoroughly unspoiled, and loved these items with my whole soul.

In adulthood, I have spent long hours getting to know the best stores in each city I visited, and dedicated endless time to thoughts of design, gems, the feeling and the looks. I befriended jewelry designers. Later, my husband knew that jewelry was a must in my language of love, and he's been generous to me. I deeply enjoy every piece I have. People say that things are just things, but I don't feel that way about jewelry. To me, they give daily joy, are infused with life energy, and remind me of that slice of life from which they came. They are healing in a way that's much deeper than simple 'retail therapy.'

I don't like getting too many things at once because it feels wrong. My appreciation is not full then. I also don't like buying many loose stones. If I have a stone, I feel a deep obligation to have the gems set and feel anxious if they sit around. ( thankfully I've undertaken most setting projects recently and only have a few unset stones left. I'm relieved!)

I'm most thrilled by jewelry which shows a fluid marriage between design, metal skill craftsmanship and the gems. If it's just about a perfect gem, but the setting is uninteresting, id want to find a different setting. It's the intersection of nature and human expression. Also rarity s an interesting question as how one qualifies rare is quite subjective. I had an expensive ring made for a jade beach pebble. On the market, the stone might have sold for 50, but to me it IS priceless because of the experience around it.

Re collecting: I've got more things than I wear, but I've been good about wearing what I can. Ive also given away things that are too young for me now. I've slowed down a lot. I often wonder if I became wealthier, would I upgrade to a bigger ruby or sapphire? I think the answer is no because I'm deeply bonded with those pieces. I'd definitely get things to complete my sets. I am grateful that I can still be ecstatic about a simple strand of gem beads, and that collecting hasn't ruined my imagination about what's beautiful. That said, I seriously doubt that this passion will ever die! I always find that there are new ways of looking at stones and new interests which capture me.
Last edited: