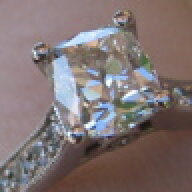 Joined

Apr 15, 2007
Messages

222
I''ve been lurking for a while on the cushion-themed message boards, and I can''t begin to tell you how much I''ve learned. My boyfriend and I have an appointment with Mark at ERD on Thursday, but I wanted to ask your opinions about something before we go.

I''ve decided I really want a cushion-cut diamond (either old mine brilliant or cushion brilliant) that''s around a karat, and I''m less picky about color than cut. What I''d like to know is whether I should worry about the depth since we''re planning to put it in a bezel setting? I feel like the bezel will cut down on light coming in from the sides, so should the depth increase? I feel like I understand the four Cs, but depth and table and crown height are a little beyond me right now.

Thanks in advance for any help you can provide!