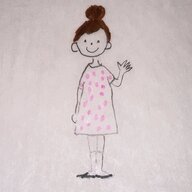 Joined

Feb 2, 2016
Messages

8,136
A couple of months ago I bought some plants at Lowes on the clearance rack that looked worse for wear but we're only $1. I brought them home, picked off all the brown bits and planted them in planters with some good quality potting soil.
Should have taken before pictures because they have really taken off! Here is the problem though, we had freezing temps last night so I brought them in and they are currently in my son's room since the cats aren't allowed in there.
The question is, can I possibly get them to last until Spring and when do they permanently need to be inside? They are pink begonias I believe and although I've planted and maintained plants in the garden, I've never had a plant in a container do well enough that I wanted to see about keeping them going.
Here is a pic, please ignore the hideous carpet color, his room is the only one that still has that awful carpet!