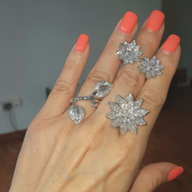 Joined

Oct 5, 2006
Messages

9,959
As some of you may know, I''m in the final stage of moving to SH (in a few weeks) to join my hubby.
I enquired about insurance with my current insurer Chubb and they say they don''t have have an office there/ provide jewellery insurance there (can''t remember which). They referred me to AXA and they intially said they''d provide me with an all-risk worldwide insurance coverage on my jewellery and just today they declined!

It''s not like I''m asking to insure a huge amount. It''s only my 3ct ring and my studs. The rest I will either not insure or leave in the bank safety deposit box in SG.
I''m very disappointed! I can''t imagine not having insurance for my jewellery and I can''t imagine not wearing my ring and studs either.
Can anyone help?