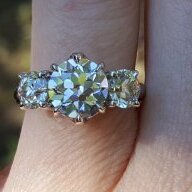 Joined

Apr 19, 2016
Messages

376
I found some old threads on this topic which say Vatche uses 95plat/5 iridium. From everything I've read that ratio is the undesirable softer platinum. I am considering a Vatche plat setting for my
GOG
upgrade ring, but definitely don't want the softer platinum. Does Vatche use that ratio? Or, do they use a different alloy and ratio?
My previous ring was a Simon G LP 1072 style (purchased in 2002). I can't determine the mix, but I'm guessing it was the softer platinum. It held an emerald cut with a 4 prong basket setting, rather than a round, but you can see the Simon G setting here:
http://www.since1910.com/simon-g-lp1072-pave-diamond-engagement-ring/v_75_m_80_s_
I had many, many problems with it over the years. At one point, it was slightly too big for me, caught on something, and literally bent. It is no longer perfectly circular. The scroll work broke a few times over the years, and it was repaired 2-3 times (it is currently broken again, but just sitting in my safe for a future CS project). The milgrain bothered me the most because I love milgrain, but it is extremely worn and nearly gone. Over the years I specifically instructed jewelers not to polish my ring. It was rubbed out in a few places during the very few times I had my ring polished.
While I love the color, patina, and heft of platinum, I don't want to go through that again. Help!?