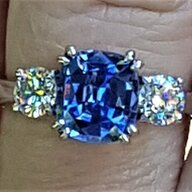 Joined

Apr 5, 2012
Messages

539
I'm really excited: this crisscut style diamond is on its way to me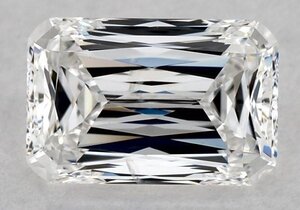 Its 1.03cts and the long sides are 7.21mm.
I'm thinking of a few different setting options but generally plan to end up with either a 3 stone ring or possibly 5 stones if I add small baguettes at either end of the trilogy. There are so many variations on this going around in my head at the moment, including trapezoids, baguettes, tapered baguettes, emerald cuts etc.
But one idea is to source a smaller diamond pair with a similar look to my centre diamond. My diamond is not a branded crisscut, in fact the GIA plot shows a slightly different facet arrangement than a true crisscut. My stone is officially a cushion because it has slightly curved corners, even though it has the look of an emerald crisscut. However, a pair of small crisscuts would work well, or any other scissor type cut. Even some version of a baguette or emerald cut with some extra facets which would give a nod to the look of the centre diamond might work well.
Does anyone know where I might find these? My centre diamond is a D colour, so I need to keep within the DEF colour range for the side diamonds, and in spite of this I also need to keep the cost down

I'm looking for a loose pair or could possibly re-use a pair in a semi-mount ring.