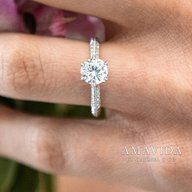 Joined

Jun 18, 2015
Messages

120
Hi guys,
I' looking to buy a well cut moissanite for my engagement ring and will appreciate your advice re where to purchase from , 1.25 or 1.50 and colour.
The engagement ring will be 3mm thick tapering to 2.4. Cathedral setting in a 3 row micro pave bombay shank.
I like the look of rings with 2pt/mm diamonds in the band but don't want it plain on the sides. I'm thinking of putting 1mm stones on either side ie 1mm side /2mm top/1mm side but want the ring to start with a 3mm width then taper to the setting with diamonds on the under gallery. However I want the shank curved like bombay (traditional comfort D court ring) not rectangular though I'm happy if it's not fully curved as long as it's more curved than rectangular. What are your thoughts on this please? Do I have to educe the stones in the milee to .75m/1.5m/.75m? They will not lie on flat lines to make a rectangle so I thin I shuld be able to achieve 1/1.6/1mm in the milee.
I guess I have to decide on the milee sizes to help make an informed decision on the size of the centre oval but it will be a 3mm tapering to 2.5 so perhaps any size will do.
The next question is colour. Fr
om what I read it appears a little warmer is better than stark colourless for moissanite. What're your thought please?
Thanks.