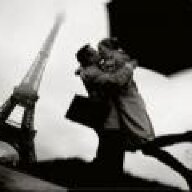 Joined

Dec 11, 2010
Messages

133
Another girlfriend of mine got engaged over the weekend... They have been together less then me and my SO... I feel almost guilty mentioning it to him cause I don't want him to think im "pressuring" him... but I did.

Interesting side note he brought up the cost of engagement rings about a week ago., and how he would want it to be a certain value (even though he believes its the meaning behind it, and so do I... but society puts a pressure on men to have a certain value in order to "show off their love".. and wants me to be proud of it?!) DUDE, you could give me a crackerbox ring and I would be happy at this point... you don't need to spend 8000+ (which is a price he mentioned).. and the last several months has been tight with his money...
Maybe I am searching for it because I want it to happen... ahhhh.. im actually driving myself crazy...