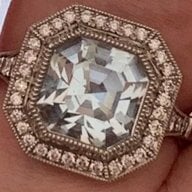 Joined

Nov 16, 2015
Messages

885
My mother recently gave me a few pieces of vintage jewelry from her Aunt that she did not wear. They are from Holland and my Great Aunt lost her husband during WWII and never remarried. She was the first of our family to move to the US in the early 50's and sponsored my parents in the 60's. When she died she left most of her jewelry to my grandmother and then my mother inherited quite a few pieces. She is still keeping the best stuff for herself! I am trying to repurpose some of the pieces without changing them too much.
The first is a cluster halo that I wasn't quite sure what to do with. It looked like it had been a ring at some point because of the solder marks on the backside. I already own quite a large halo ring and the diamonds didn't feel like high enough quality to make another. If they were OMC's or something from that time, I would have considered it. It seems like there are a lot of splintery round brilliant's from Europe during this time period. I decided to add some rabbit ear's to the cluster halo and lower the center stone. It was slightly raised like a lot of the mid-century cluster rings of the time. It was polished and replated to look new by Debebian's in LA. I also had a 14K white gold chain made to go with it. I like that it has the extra loop so I can wear it at 18 or 20 inches and I also had a 2 inch extender made so I can make it 22 inches If wearing it with other pendants. The stones look warmer than they are in real life because of the tree's and my yellow cell phone. I would still think they are probably a I or J though.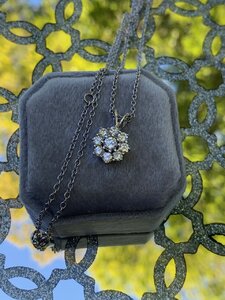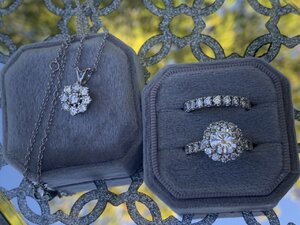 The second piece is an etched gold bangle. I think it is either 9K or 10K gold. It has 2 symbols on the inside which I assume stands for the gold weight and maker marks/year but they are kind of hard to read. The bangle is very pretty but it gets in the way of my watch on my left hand and when I write on my right hand so probably just an occasion piece. If anyone can understand the marks in the pic, I would be interested.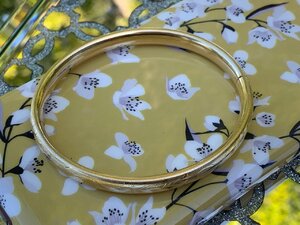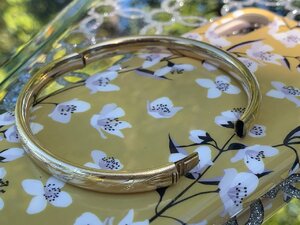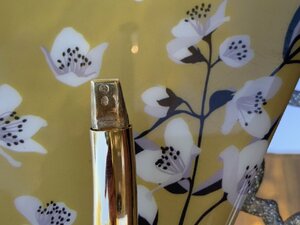 Last piece is a pendant necklace. It is a 18K gold coin from 1917. My mother has one already from her mother and this one was my Aunt's. She told me that women wore them as a fashion piece. I can't find a ton of information out about why they were fashionable but more about the coin itself. It is of Queen Whilhelmina and it stood for 'National unity and resistance to both World wars'. She reined during both wars and the Great Depression. I like the idea of that but I can't figure out how to wear it. I have an 18 inch chain and it looks ok on but I feel self conscious. I am not a big lover of necklaces tight around my neck though so I was thinking to have a 36 inch chain made. The coin itself is about the size of a quarter and weighs 10 grams. I am trying to make it look like a fashion piece without looking like a rapper. Any thoughts on this would be appreciated! I am not quite sure how it translates for modern times...