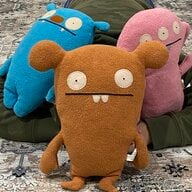 Joined

Oct 24, 2012
Messages

11,325
Hi Ladies:
I have just been so inspired lately (due to the recent SS experience) that I had to ask what other people have on their bling bucket list. I don't know which poster used this term but it sticks in my head. And when I actually write it down, (in a note on my iphone) I can stay focused on saving for a particular piece and not go blowing money on impulsive buys. It would be so much easier if I didn't have a budget, right??
I'll go first, but this list is subject to amendments and additions.
1. At least 2 eternities from SS. At least one must have French cuts.
2. An AVC or OMC, in a halo.
3. Asscher anything, ideally an eternity.
4. Diamond and sapphire eternity band
I wish I could be more creative in my jewelry uses. But I don't have pierced ears, and I never wear bracelets because I am really bang my hands around. (My poor rings!!) I may reset my original solitaire into a necklace, but I seldom wear necklaces either. And the other hard part is that if I have bling, I want to be able to see it. So maybe I'll reconsider my stance on bracelets. I'm considering piercing my ears just to be able to wear diamond studs!! I know. I am LOSING my mind!!