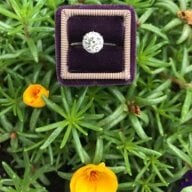 Joined

May 25, 2016
Messages

308
I know there are lots of things you CAN do, but I would love to hear (or see!) what you've done with prior stones.

I have a GIA graded mrb that is 1.02,I, VS2 (previous lifetime, prior marriage; divorced) that I had put into a bezel pendant and I wear it on a thin Tiffany chain.

This place has me wondering if I should pop it into a ring. Maybe a vintage setting. Or a cluster. Something Art Deco, maybe?

I am currently consumed with designing the setting of my e-ring, so I don't have energy to spend on it right now. (Plus, after that I need to decide on a wedding band - which shouldn't be so hard.)

I am not sentimental about the stone at all. I would've sold it but you take such a loss on diamonds, it seems.

I almost wish I could trade it for two .50 carat studs or something. I do think it would make a nice right hand ring. I like it as a pendant but I don't wear it much. And apparently this place makes you itchy to make other jewelry happen. Lol.