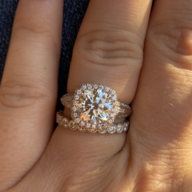 Joined

Dec 10, 2019
Messages

187
I purchased an 8.7 H&A's moissanite from Jonathan about 6 months ago and after wearing it for a couple of months, I decided to buy a diamond that size to replace the moissanite in my engagement ring setting. The moissanite is gorgeous, the only reason I decided to do that is because for my engagement ring I just didn't find it "mind clean". I felt awkward when someone would compliment my "diamond" and felt like I needed to explain and found myself not really wanting to tell people so I did what I thought was best for me. I still love moissanite jewelry and now have this gorgeous stone sitting in a drawer. I'm trying to sell it but I haven't had much luck and I honestly don't want to lower the price much since it's almost new and already listed for hundreds less than I paid. SO if I can't sell it, I'm trying to decide what I should do with it.

Options:
1. 18k Yellow Gold Solitaire to switch out with my E-ring sometimes since I do crave a soli occasionally. Problem is I don't know that I would wear it very much since it would be weird in my friend circle to wear different engagement style rings.
2. Create a three stone RHR. Problems I see- this would be a huge ring that would again draw attention and I don't want to look like I'm "trying to look rich?"… I know I should stop worrying about what other people think!
3. Keep it for a future project down the line or if you have other suggestions I'm all ears!
4. Lower the price and sell it to put toward the earring project I want to do!

Thanks for reading and helping me make this decision. I'm so indecisive!