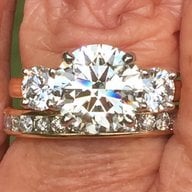 Joined

Jun 23, 2005
Messages

12,219
Very cool! Ok lets start guessing everyone! I'm assuming from this reply that you know the maker? I'd really like to know if they are from Tiffany as well.
PS. It would really make my day to find out, now not only am i housebound, but i broke my toe yesterday (i dropped a can of tomatoes on it, and my husband, who's a nurse, confirmed that it is indeed broken) so i am couch bound too. Take pity in me, lol!!
Ouch! So sorry about your toe! Hope you are not in too much pain.
I googled her earrings and found the same picture that RWS posted. The caption said they were from Tiffany & Co. but did not list a carat weight. Course, that is saying that you can believe the caption.