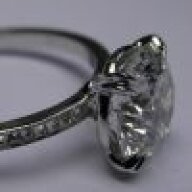 Joined

Oct 28, 2009
Messages

276
I am considering getting a Tiffany Lucida. It would be over 3.5 ct, but likely in a lower color (H or I). I'm considering 3 of the settings it comes in.

I'm leaning towards the halo, but DH really likes the original setting. When I tried it on in the stores, it seemed very "thick" to me. I like the halo since you have greater emphasis on the cut corners. The third setting (on the right) is one they used to make but I don't think they make it anymore, except perhaps for a special order. I've always liked baguette side stones. I saw the split shank and trillion side stone settings but did not like either of them.
So - thoughts on which one would be a good choice? I'm a bit concerned the halo may be too much for this size stone. But I love how it looks. The original setting is unmistakably Tiffany, so that's a pro. I haven't seen the baguette one in person, but I do like the style.
Also - which setting would minimize the tint? I can see it slightly from the side, but the face-up is pretty white.
TIA