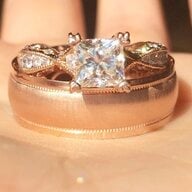 Joined

May 19, 2020
Messages

1,063
I have the itch to go tootling around some high end malls and jewelry stores, just for fun, but also to scope out the Mikimoto store. I'm such a casual, no frills person that I have no idea what to wear while shopping so that I get taken somewhat seriously. I live in Southern California, so the dress code here is VERY casual *insert picture of Kim K walking around in compression shorts and a bra*. I never wear more than jeans and a T-shirt usually when I go out.... But I've never had the guts to actually go into some of those fancy-schmancy stores because I feel too conspicuous.
My little farm girl self isn't used to living in the big city yet. SO...
What do YOU wear when going to fancy, high end retailers? Spill the beans and post pictures below!