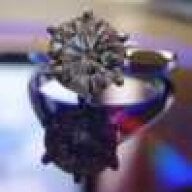 Joined

May 27, 2008
Messages

5,455
The lady at the store told me that diamond white is kind of in between white and ivory. I actually thought it looked a little darker than the ivory, but maybe that''s only because I was comparing it to the ivory I''d seen earlier at a different store and don''t remember correctly. The coloring of the dress is a little confusing to me because from a distance the sparkles seem more gold-ish, but when you get up close, you see that they''re actually silver. You can''t really see ANY sparkles in the pic, but I don''t have the dress on me right now to show you up close. I definitely don''t want white shoes, but is ivory going to be close enough to match? I don''t think I''ve ever seen shoes called diamond white, but if they have them, I''d love to know where to find them. Thanks in advance for any help!
Here is a picture of the dress from my other thread (please excuse the weird face I''m making

). I''m thinking something strappy and not over three heels, maybe lower.