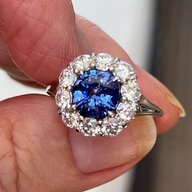 Joined

Aug 18, 2013
Messages

9,169
There are going to be people who disagree with my take on this. So let me be explicit before I start.
THIS IS HOW I FELT.
It might not be how you feel. But - gees louise - it sure is how I felt!
I've been looking for a well matched pair of pears. I found one pear I loved on
Blue Nile
- but no match. So off I went to
James Allen
- a company I used to love but which I've used less and less since their decision not to post GIA certificates.
I found 2 I liked, and decided to buy them both. So I placed the order. Keep in mind, I've been buying diamonds from
James Allen
for over a decade.
I received an email confirming my order.
And then I received a second email - telling me they needed..."just a little more information."
They wanted....
A photo of my credit card.
They wanted....
A photo of my drivers license.
They wanted....
A photo of ME.
Yup. They wanted a SELFIE - of me - HOLDING my credit card and my license.
Before
James Allen
would sell me a diamond, they wanted a photo of my FACE.
I called them (hardly a surprise). And - equally unsurprising - I was not the first person who had complained! It was explained to me that this was in response to fraudulent activity they've experienced. The sales assistant told me it was only for loose diamonds, and only for new customers. I said - "You're looking at my record - you can see how long I've been buying diamonds from you." She told me there was a glitch in the system. But then she ALSO told me she didn't think
she'd
have bought something that required that process. I said to her - "I feel like
James Allen
is telling their customers - "Sure - we'll sell you a diamond! But first we want to take a good, long, look up your skirt." "
Nowhere in the email where they required this incredible invasion of my privacy did they assure me that my photo would be deleted-beyond-retrieval after the sale. So, yet again, as a customer, I am required to trust
James Allen
's integrity while they don't trust mine.
There is NO WAY I am sending that particular cocktail of my private information to a faceless website. And there is also NO WAY I will EVER AGAIN recommend this company to a newbie who comes to PriceScope looking for a diamond. People come here with questions and, most often, caution. Sometimes out and out distrust for the whole online process. What would they think of us, as a website, if we (people they don't know) refer them to a company (more people they don't know) who want photos of their license, their CC, and their FACE.
You've gotta be kidding me.