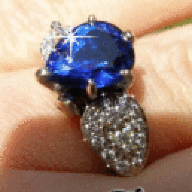 Joined

Feb 27, 2006
Messages

935
My ring is nowhere near complete. The woman that is making the ring, doesn''t do the casting, they had it sent out for that. She had it sent out the first time and it was horrible, she asked them to do it again and when it came back the second time, she said it just wasn''t enough for her to work with and although she could definitely make it nice, she didn''t feel comfortable with the quality and it would jeopordising the integrity later down the road. She said that the ring would not have held up a life time and she didn''t want me to be in for constant repairs. So.... she''s sent it out to a completely new caster and was expecting it back any day, this was a week or 2 ago when my b/f inquired about it. They have been incontact all this time, but b/f didn''t want to say anything to me, to try and keep it a surprise.... And he tells me you just have to be patient! HA if only he knew I have been patient, but he doesn''t see that. Then he asked me how he should ask, and I said "Gee, you had 5 months to really think about that, you should know by now." (nice blow)

Since I had to beat the information out of him.
She was extremely apologetic and she knows we''ve been waiting a long time. B/f sympathizes, she knows it''s beyond her control, but I just had to know it''s been nearly 5 months! He told her wilth the drama with our dog, there''s no way he would have proposed anyway, so she knows everything even the status of our dog, she''s been asking about him. (In case some of you don''t know my dog, Boomer has seizures back in Oct. and was misdiagnosed, until Feb. we finally found out he has diabetes, and by march he went blind!. Yesterday I was rushing him to the vet with a urinary tract injection as there was blood in his urine from the spike in sugar the other day. not fun)
So what are your guesses, A month and a half away???