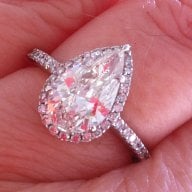 Joined

May 23, 2010
Messages

6,731
Okay, what's the weirdest thing (or things!) you've ever seen with your own eyes? I'll pop back in periodically to add to the list.
Here's my first one; one day I'm looking out the French doors, at a large carpenter ant who's walking on the window part. He's moseying around. La de da, just moseying. Then there's a bee, kind of hovering around the ant. Just kinda hovering. Then suddenly
the bee picks up the ant and flies off with it!
WTH?! All I could think is that the ant was saying "Wheeeeee! I'm flyyingggg!" WTHeck?! I emailed one of our state universities, the bee department specifically, and the professor said that bees will pick up ants and fly them away from a hive if the ants come to steal their honey. He had no idea what the bees do with the ants. Plus he had no explanation for why the bee was "cleaning up" our door.

So that's my first weird thing what's yours?