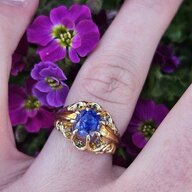 Joined

Apr 13, 2018
Messages

1,379
Today I purchased my first unset true blue sapphire & there's a funny story that goes along with its purchase!
This stone was originally from desertrose (from my own home state) yet when I contacted her about the stone it had been sold and I looked into the right one but my heart was stolen by the left so I told her that if the sale somehow falls through to please contact me and that if it's meant to be mine it will!
I'm a huge believer in that, especially when it comes to gemstones or jewelry pieces and so when someone else purchases what I've had my eye on or it becomes unlisted, it's so refreshing to be able to say to myself "I suppose it wasn't meant to be & if it is it will find it's way to me somehow, someway."
Well only a few days later as I was lurking LT and was scrolling, my eyes widen and I see it! The
exact
specific sapphire that I had fallen in love with was being sold quickly after, if not immediately after; not to mention the coincidence that
out of everyone that could have purchased it, it was the sweet woman who sold me my "Mermaid Bubblegum" emerald!
I joked with her that she had sold me some beautiful velvety emeralds, currently this gorgeous sapphire, now all I need to purchase from her is a nice little ruby! Haha
So this baby is named fate & it was a blue sapphire kind of day <3
My beta which I purchased at walmart when my daughter was under a year old and who had lived to the ripe old age of 5 finally passed yesterday & my daughter and I went back and purchased a teal sweetie which we named....
Yes you guessed it; "Sapphire"
Although with his lighter teal complexion he's a Montana Sapphire gal!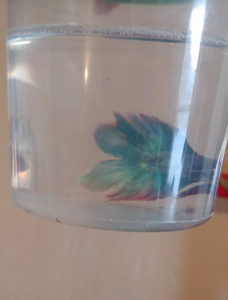 Now to "Fate"
"Fate" is a petite gal at 5mm but is a beautiful Ceylon cornflower blue & packs a glowy bright punch of blue in sunlight! She is completely untreated & unheated and is my first ever unset true blue sapphire purchase! I feel so lucky to have her as I fell in love with her!
Im thinking of a possible toi et moi ring with a diamond or even a pearl in yellow gold?
Or a modern gypsy setting in rich 18k brushed matte yellow gold?
Ive also have yet to browse Ivy&Rose but I cannot wait because every stone that I've purchased from desertrose has been even more stunning when set!
I'm sure there's a sparkly diamond & rose gold premade setting with Fates name on it!
I cannot wait to update the thread with some handshots of this baby! Im just delighted!
Here are some stills from the below video from desertroses instagram!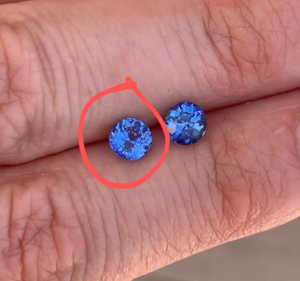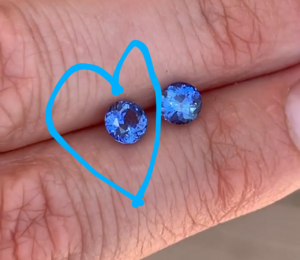 http://instagr.am/p/CBv5Ma0B3VK/
Also who said blue is a melancholy color? I find it nothing but soothing!
My little also got a sweet blue Elsa dress from her grandparents today and obviously HAD to wear it to the store!