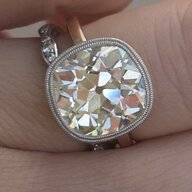 Joined

Nov 4, 2009
Messages

827
This is sort of my first official post regarding wedding planning, and I'm really sorry it isn't going to be a happy one. My perspective might be a little complicated, and I hope I don't come off as being bratty about having a wedding, etc etc etc.

FIrst off, I hate being the center of attention. It makes me nervous, and I'm much more of a private person, passive participant kind of girl. My fiance is a psychologist, and I think suffering from terrible middle child syndrome, so he obviously feels like I have a bad phobia and that my family never "celebrates" me, and feels the need to fix it 9 months before the wedding. Part of me always wanted a nice wedding with pretty everything, but the realistic side of me is like, ugh all this stress and planning. PLUS I am in my final year of medical school which means boards, residency applications, residency interviews, $$$$ down the toilet for all the above things. So, I have had more than my fair share of arguments with my dear FI about wedding, but we already booked a venue, and are about to put down a $2000 deposit, so what's done is done and I've been telling myself to make the best of it, and enjoy planning as much as possible because it only happens once.

Enjoying the planning part has been a royal pain in my beeeehind. I have so much stuff to focus on for school, that part of me doesn't care a whole lot about most of the wedding. But there are other things that I REALLY REALLY care about, like the photographer, and I so wish I didn't care so much about it. My fiance is very sweet, and he said he would take over wedding planning. I don't think he knew what he was getting himself into. He downloaded a Droid wedding planning app, and has been overwhelmed with how "behind" we are. Like we should have the STDs out 9-12mo in advance (oops), DJ and photog should be booked (not done yet), schedule of events should be done (what?). So this whole week he has been pushing ME to do stuff, like, what about those STDs, addresses for guests, how come you haven't talked to your mom about extended family being invited, etc etc. Part of me feels like maybe I should have been more on top of things but he is throwing all these questions at me all at once while I'm trying to study for boards. Tonight, we were discussing photographers, and he wants to book one as soon as possible, and he's always been the type to try to get things done fast, without thinking much about them. I asked if we could meet the two photographers we had narrowed our decisions down to, and he FREAKED OUT. He was like, WHAT? We would have to drive an HOUR to meet them? FOR WHAT? So looks like I'll be doing that myself because I care more about photographers than he does. MEANWHILE, I've been asking him to get on the DJ for quite some time, and he has made NO MOVEMENT on it. He was waiting on an info packet from our venue because he was too lazy to look for the original one we were given when we initially booked it.

So this whole planning thing is driving me nuts. Does ANYBODY have any advice on caring less? It's too much trying to focus on boards and my medical career while wedding planning and holding his hand through every decision process for this wedding. I could try to drink my way through it, but that wouldn't bode well for boards...